Tips For The Bride – Perfect Wedding Hair
1. Six months before the wedding is a good time to start thinking about your hair. Start looking around at wedding hair styles and getting ideas. Take into account your dress, tiara and veil, if using, and also the type of wedding your having. If it's all quite formal you may want to go for a sleek wedding updo or other classic style. Dont be afraid to try something different, you wont be dressing like you normally do so you can try out a whole different look. However dont stray too far from your normal look, he doesnt want to see a stranger walking down the aisle! If you are thinking about changing your hair colour now is a good time to experiment, dont leave it any later in case you dont like it and need to change it back.
2. As a general rule of thumb the longer your hair the better (within reason), especially if you are planning to have it curled or wear it up. However dont compromise on condition for the sake of length, keep those ends trimmed and start using deep conditioning treatments, you want georgeous glossy locks on the day.
3. It's best if you choose a wedding hairdresser with plenty of experience and preferably one who specialises in bridal hair as it is more complex than regular hairdressing and you want it to stay looking perfect on your special day. Book a trial two to nine months before the wedding (longer if you wish) it's best to wait until you have your tiara, veil etc. as this will help to determine the eventual style. If you are growing your hair wait until it's reached your desired length before having the trial, however dont wait to book it as you may be disappointed.
A good wedding hairdresser will ask you lots of questions about your wedding, i.e. the dress, tiara, veil, venue and also your bridesmaids. Give them as much information as possible, this all helps to create the perfect look. If you have a theme let them know and offer to e-mail them any useful pictures. If you see any styles you like send them these before the trial along with recent pictures of your bridesmaids and dress.
4. Wash your hair the day before your trial, and the same goes for your wedding day as this makes it less fly away and easier to manage. Leave it to dry in its natural state with no products on. It's VITAL that you dont straighten it as it wont take a curl properly, even if you arent planning to wear it curly.
The wedding hairdresser will have shine spray etc, to ensure it looks glossy. Take your tiara, veil and any hair accessories along with you also all the pictures etc, just in case there is a problem with the e-mail. Wear a light coloured strapless or strappy top, or if your wedding dress isn't strapless try to wear something with a similar neckline. Allow at least two to three hours for your trial.
You can usually take bridesmaids with you if you wish to let the stylist see their hair, if not take recent photos. It's a good idea to take someone (apart from the groom!) to give you a second opinion. If bridesmaids are unavailable then perhaps your mother (depending on the mother!). The stylist should take photos but its also a good idea to take your own camera too. Don't be afraid to ask to try more than one look, a good stylist should have no problem with this, it really helps you to decide if you are a bit stuck on the whole up or down dilemma! Book the hair and make-up trial together so you can see the complete look.
If you are having your hair curled or put up its often a good idea to book it early in the day so you can see how well it lasts, bear in mind that curls will always drop a certain extent. Once your trial is complete your wedding hair stylist will be able to tell you exactly how long it will take on the day, for the entire party, aim to be ready at least 30 minutes to 1 hour before the car arrives.
Tips For The Bride – Perfect Wedding Make-up
1. You need to establish a good skincare regime as early as possible to make sure your skin is blemish free and glowing for your Big Day. Start having regular facials, this will improve your skin tone and minimize breakouts (it's not a good idea to wait until a couple of weeks before your special day to start having facials, you need to remove the toxins much sooner and have regular facials) and make sure to cleanse, tone and moisturize daily, it's also a really good idea to exfoliate, especially if you are prone to breakouts. Make sure you book the last facial at least a week before the wedding to ensure you arent too oily or have a breakout on the day!
2. Your wedding hair and make-up artist will be able to advise you on products and help you to establish a regime that suits your skin type at the trial,however if you aren't having your trial till quite near the wedding date then its a good idea to have a consultation as early as possible (even if its only possible by phone) so you can follow their expert advice and start to prepare your skin.
3. If you are thinking about a spray tan then have a trial first several months before the wedding in case it doesn't suit you and you need to let it wear off! Also make sure you have had one recently when you have the make-up trial (if it's something you usually do and are comfortable with) so the make-up artist can choose the correct colours etc.
4. If its a summer wedding take great care in the sun beforehand, use sun screen and be sure not to burn or acquire strap marks, (neither are a good look, be especially careful if your gown is low cut/strapless)
5. Dont leave facial hair removal too late make sure you have eyebrow and /or lip wax at least a week before the Big Day, to give skin time to heal so you aren't sore/spotty one the day.
6. One last thought… a lot of wedding venues whilst, being totally stunning, are not especially sympathetic towards brides having hair and make-up, they often have very dark rooms with very little natural light (they call it ambient!!), which is essential for make-up particularly! If the bridal suite you have booked has poor lighting and/or is cramped and without sufficient facilities try to make sure that one of the bridal party who is staying the previous night has a suitable room, even if its just for doing the make-up. If not ask the hotel to provide you with a suitable room for the wedding morning to have everyones make-up and/or hair done in comfort with sufficient natural light and plenty of seating and mirrors (especially at least one full length one).
On the day RELAX, sit back and sip your champers, you are in expert hands.
PS. Extra tip for your wedding day hairdo's. Make sure everyone having their hair done on the day wears a robe or something that doesnt need to be pulled over their head (even the little ones!) No one wants to have their clothes cut off!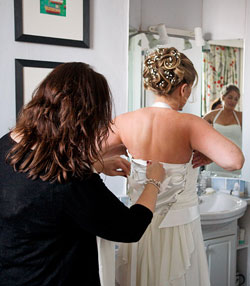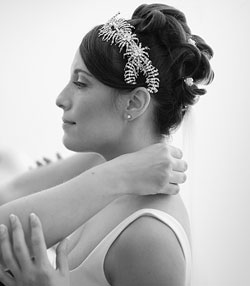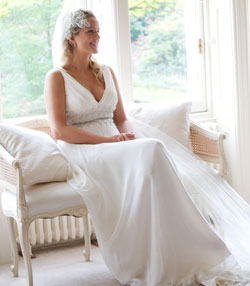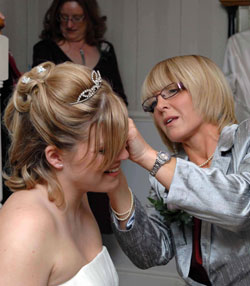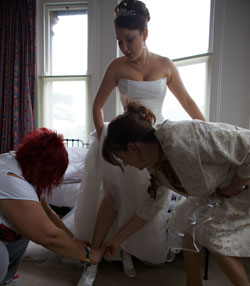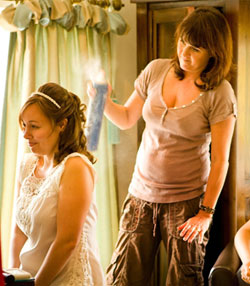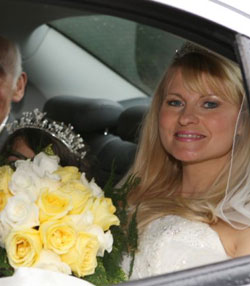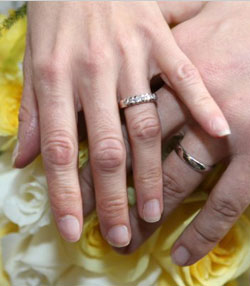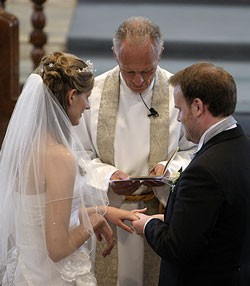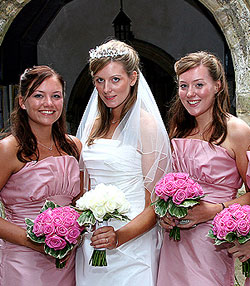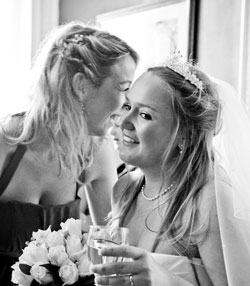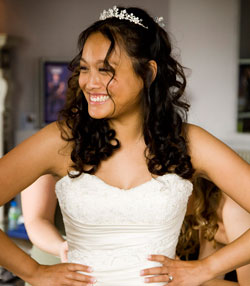 "Impressive wedding hairdresser in Kent"
I was so impressed with the service you gave me, you knew how nervous I was as I'd had a bad experience with another company. You calmed me down and my hair looked amazing and everyone commented on our hairstyles. I will be telling all future brides in my area to book you as you are worth your weight in gold. Thanks for everything. x
Lucia Labrooke,
Tunbridge Wells, Kent,
Sept 08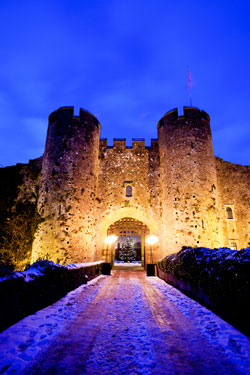 "Incredible wedding hair updo"
"Elaine was so professional and knowledgable I was amazed. She patiently listened to all my ideas at the trial and, even though I was terrible at explaining, she managed to produce an incredible up do that totally captured what I was visualizing, despite my uselessness! On the day she was so calm it was almost catching, even though she was doing four hair do's, and we threw an extra one in at the last minute! She was really flexible about who had what and when, which was so helpful, yet she still managed to keep us all to schedule, and we still all had time for a giggle! Oh yes and we all looked fab!! Thanks Elaine"
Freya and family,
Leeds Castle, Kent,
June 09
"Fantastic mobile hairdresser"
"Elaine at Halls Hair Design was simply brilliant! She did the hair and make-up for myself plus three bridesmaids and my mum and we all looked amazing, really fresh and natural and we stayed looking that way all evening.
My mum was especially delighted with her make-over which really pleased me.Our hair was lovely just what we all wanted and she was so helpful anfd friendly she totally added to my wedding day experience!"
Julia Smythe-Hamble, Amberley Castle, West Sussex, December 2010